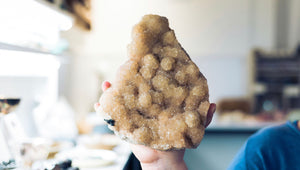 This class is a 2 hour recording of Laura's recent intro course, "Stone Medicine Basics." This class was taught live in July 2022. 
Laura touches on many topics including: crystal structures and colors, mineral compositions, overview of the Chinese 5 elements and other Chinese medicine energetics, responsible sourcing, her thoughts on clearing and cleaning stones, specific energetics of a handful of stones, as well as answering questions from a live audience. 
Terms and Conditions:
By purchasing this recording you agree to the following:
You understand that this event is purely for informational purposes only.
The Content is not intended to be a substitute for professional medical advice, diagnosis, or treatment. Always seek the advice of your physician or other qualified health provider with any questions you may have regarding a medical condition.
You hereby releases Laura Greiner, The Seed to Star Collective, LLC, and 5 Element Wellness, LLC, from all claims and liabilities arising from participating in said class, indemnifying and holding the instructor harmless from all claims and liabilities there from, whatsoever.
.